Product search results for brand:Disney Cars: (showing 1 to 11 of 11)
---
---
Your future race car champ may be too young to drive, but can still zoom like Lightning McQueen with the Disney Cars Bike. The hot red paintwork, emblazoned with exciting Disney Cars decal is sure to make your child to feel like they are starting in pole...
---
Inspired by the upcoming Disney Pixar animated film, Cars 2: The Video Game lets players jump into the Cars 2 universe with some of their favourite Cars personalities in exotic locations around the globe. Suitable for the 2DS, 3DS and 3DS XL. Continuing...
---
Fire his red lights on by pressing the button on his roof then see his rear wheels spin! Batteries included. Get ready for animated racing fun with Burnout Lightning McQueen! 9 inches, with wheels that spin and light up, simulating great racing action...
---
Two ways to play! As a transporter, Mack proudly carries Lighning McQueen to places near and far, then opens up to reveal multiple play areas! Inspired by Disney Pixar Cars, this Mack Truck and Transporter delivers two big ways to play! As a transporter,...
---
This character bedding will make going to bed a breeze, it looks great when teamed up with other soft furnishings in the same range. Set comprises of 1 duvet cover and 1 pillowcase. 30?C machine washable. Made from 50% cotton and 50% polyester. Suitable...
---
The Pullback Racers are making tracks with detailed decos, cool styling and carloads of personality. Press the logo on the hood or roof to transform their expressions - their eyes and mouths both change looks. 1:34 scale size means even the littlest of...
---
This new version of Lightning McQueen comes alive with wicked, off-road styling. Blazing through tough terrain is a snap, too, when you have side-to-side steering: just press on the left or right of the vehicle to go where you want. When you press down...
---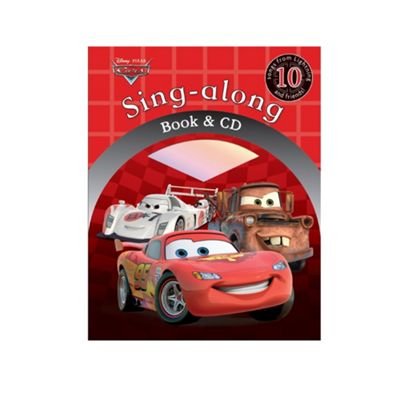 Sing along to the songs from the first Cars movie and some other cool car themed tunes in this awesome book. Put the CD in your player and rock out the ´Life is a highway´, ´Route 66´ and other Cars songs whilst singing along with the lyrics in the...
---
Collect all of your favourite characters from Cars 2. Will you choose Lightning McQueen, Mater, Francesco or one of many more? Have hours of fun re-creating your favourite scenes from the movie! Enchanting die-cast assortment gives kids the chance to...
---
This fun 2-in-1 flip out sofa is not only ultra comfy as a sofa but also unfolds into a fun lounger, perfect for your little racer to sit and rest. Its inflatable inner is easy to inflate and, when deflated, makes it easy to store away. The soft cosy...
---
Cars 2: The Video Game will allow players to jump into the Cars universe with a brand new international spy theme. The game will feature an array of beloved Cars characters competing in action-packed spy adventures, as well as world-class racing. Suitable...
---