Product search results for brand:Cavalor: (showing 1 to 11 of 11)
---
---
Cavalor FiberForce is the ideal fibre mix, specially developed for horses suffering from stomach ulcers, gastrointestinal problems, insulin resistance, laminitis and cushings disease. The palatable fiber-rich mixture has a high fat content ensuring a...
---
Cavalor by Versele-Laga Cavalor Fiber Force High Fibre Developed for horses who have Stomach Ulcers, Laminitis & Cushings Grain free and contains no whole grain cereals Low starch & sugar Cavalor FiberForce is the ultimate fibre mix, specially developed...
---
Cavalor Kiddies Horse TreatsHealthy treats for horsesUse as a reward Cavalor Kiddies Horse Treats are healthy tidbits to reward your horse with.
---
Cavalor Performix is a balanced competition mixture suited towards active horses. Containing copper, zinc and magnese these ingredients work together to provide maximum support to the joints, bones and tendons of the horse. High quality grains, premium...
---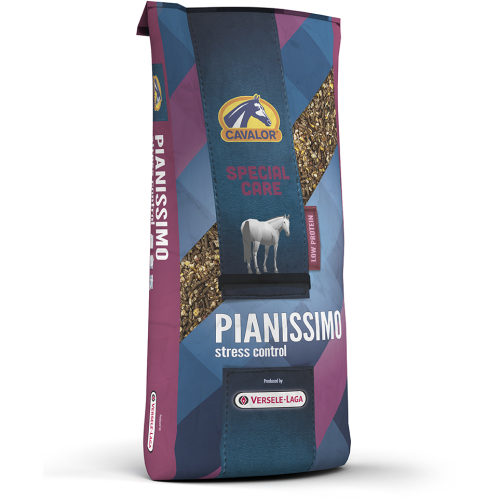 Cavalor Pianissimo has been specially formulated with Horses and Ponies that are prone to stress or are hard to handle in mind. Pianissimo contains herbs and other elements that counteract excessive sensitivity. It also contains all the nutritional...
---
For horses and ponies prone to stress or horses that are hard to handleContains herbs and other elements that counteract excessive sensitivity.A complete and balanced feed for sports horsesAlso highly suitable for horses at restLow protein content (7,85%...
---
Cavalor Probreed is a supplement for gestating mares in their last three months of gestation, lactating mares and young foals. These horses require top quality proteins, which they often have to go without. Therefore Cavalor Probreed contains these proteins,...
---
Cavalor Strucomix Original has been created to suit the diets of horses in the wild. It is a complete maintenance feed that contains all the natural raw ingredients a horse would have freely sought itself in the past. Horses were formally prairie animals...
---
Cavalor Stucomix Pony is a unique blend for ponies created with key elements for an optimised conversion of feed into energy, and to optimise digestion. Ingredients include alfalfa stems, vegetables and probiotics. Strucomix has been designed to avoid...
---
Cavalor Strucomix Senior has been designed for older horses that have a less able digestive system and often deteriorated teeth. Strucomix Senior helps improve these issues. Strucomix Senior mostly consists of extruded grains that can be digested much...
---
Senior Mix Contains garlic and herbs for improved circulation Contains easy to digest extruded grains  Increased levels of vitamins and minerals  Added 'Struconcept' Cavalor Strucomix Senior, Older horses have a less efficient digestive...
---